Big Club Events - Festivals - Haunted Houses
Last Updated: 10/30/09

- - - - - - - - - - - - - - - - - - - - - - - - -
This year
Halloween
is on a Saturday Night! Even when Halloween falls on a Tuesday for example, the clubs are packed to capacity. You can only imagine how crazy this Year will be. So it is very important to get your Pre Sale Tickets early on. Not only will you get discounted entry but actually are 100% confirmed to get inside the club. Nothing worse then being all dressed up for the occation to only stand outside a sidewalk = No fun!
I get a lot of Events offered to put on this Website, but as always i want to make sure to recomend and get us hook up's with only the highest quality events.
With the places you find below, i know the people in charge for many years. There will be no bad surprises. These events will blow you away.

Make sure to get your pre sale tickets early as they usually go up in price the closer it get's to the date.
- - - - - - - - - - - - - - - - - - - - - - - - -
Hollywood Haunted House & Halloween Costume Party @
Social Night Club Hollywood
Join us for our Annual Halloween Ball at SOCIAL NIGHTCLUB, by far one of the greatest venues Hollywood has to offer. Two levels, multiple rooms all decked out, 1000+ party people in costume. This is a classy 1920's haunted building that used to be the Hollywood Athletic Club way back in the days. Now a classy spot which will be Halloween Central, including a Costume Contest with $1,000 in CASH PRIZES that will be awarded for BEST COSTUME
Plus L.A.'s best DJ's for your dancing pleasures and some major surprises that you will have to see to believe!
This event WILL SELL OUT!! Purchase your DISCOUNT Pre-Sale Tickets before they sell out…Tickets may go up in price at any time as event nears.
 

EXCLUSIVE HALLOWEEN PRE AND AFTER PARTY

You know I always look to hook you up with some special treats each and every week(just sign up for the weekly Newsletter) and for Halloween of course it will be no difference...

FRIDAY, OCTOBER 29
FAME & FORTUNE PRE HALLWEEN PARTY @ CITIZEN SMITH
1600 Cahuenga Blvd - Hollywood

Fame & Fortune at Citizen Smith will have that Restaurant, Bar/Lounge feel in the front and Dancing and Party Vibe in the back and Patio Area.
We have assembled a collection of some of Hollywood's finest promoters and some new faces you'll soon be hearing about.
Dinner will be served all night with a candlelit ambiance and good music provided by PJ Butta.
Drink Specials and Bottle Discounts for the early arrivals.
Citizen Smith is a moderate size quaint venue therefore, we're not going for the masses but rather the quality.
There's no VIP section because the entire club is VIP and definitely NOT for Everyone!!!
Entry is at the discretion of the doorman so gentlemen please keep your entourage to a minimum, dress fly and you should have no problems!!!
To be on my personal list, just e-mail me with CITIZEN SMITH to alexinla03@yahoo.com

SUNDAY, NOVEMEBER 1
HALLOWEEN HANG OVER @ SHANRGI-LA
1301 Ocean Ave - Santa Monica

This is our first annual Halloween Hangover at Hotel Shangri-LA. We wanted a place for all of our friends to come hang out after our busy Saturday nights and catch up about our weekend. BBQ, Pool , Poker and $30 Bottles of Champagne! This is a personal invite to you to come chill poolside, listening to some amazing guest DJs and meet some new friends.
3-9PM

ADDITIONAL EVENTS ADDED ALMOST DAILY
LAST UPDATE: OCTOBER 30, 2009

10/ 31/2009 - MONSTER MASSIVE @ THE LOS ANGELES SPORTS ARENA
A massive 9000+ people all ages rave with top DJ talent from all over the World.
This is big, the rooms are decorated and costumes are first class! You can buy $30 pre-sale tix @ www.monstermassive.com

CLUB SEDUCTION HALLOWEEN STYLE
Secret Location
A downlow gay Halloween party that caters to a mostly black and latin crowd, but everyone is welcome.
Slamming Hip Hop and R&B is offered at this secret location. Go Go Dancers and a costume contest where you can win a $100 Amex Gift Card, plus look out for the Jason Vs Freddie Vs Michael Moore Go Go Battle!
$20 with an open bar all night. You have to be on the guestlist and mention the Alex In L.A.Website when e-mailing your rsvp to bruthasforbruthas@yahoo.com

BONDAGE BALL @ BOARDNERS

The title says it all. "A dramatic spectacle full of exotic and erotic characters inspired by the featured, the ferocious, and the wild!". Main stage: suspensions, bondage shows, aerialist, fashion shows, vampire burlesque and more. 3 fully equipped free play zones. Limited to only 750 tickets. VIP lounge w/ dungeon. $30 pre / $40 at door. At Boardners, 1652 N. Cherokee -Hollywood - www.bondageball.com

10/31/08 Miss Kitty @ Dragonfly

Cabaret style entertainment, burlesque reviews and more. Dirty contests starting You and your friends. Party with Mis Kiddy and the New Filthy Family, infamous clubland royalty, degenerates, freaks and weekly guests.

This is a weekly celebration of sin, smut and glamour open to the public but has an extremely mixed clientele of all types of sexuality and lifestyles. Check out their website to determine if this party is for you.

10/31 /08 - COSTUME CONTEST @ GOLDCOAST

8228 Santa Monica Blvd - West Hollywood

Mere steps from the West Hollywood Carneval, you can find this gay neighbourhood watering hall. Nothing fancy, but a fun crowd and the freaks come out for Halloween Night and there costume contest. This year they have a $250 extra winner for the best Sarah Palin costume(and you know we will see a lot of those this year) Winner get's $250/Runnerup $150/3rd $50(which you will spent in drinks anyway, lol)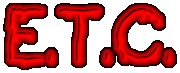 Additional Treats L.A. Has To Offer During Halloween
October 31st, 2008

WEST HOLLYWOOD HALLOWEEN CARNEVAL
This is the biggest Halloween Event in the World
Join over 350.000 Crazy Party People along Santa Monica Blvd - See the most outrages Costumes, mingle, dance on multiple dancefloors, enjoy live music(last year Maya performed, the year before Pink)or just watch the incredible costume contests. See and be seen is the motto here. This is my favorite L.A. event, so, DONT MISS IT!!!!
Check pictures of last years West Hollywood's Carneval by clicking on the link below
2008 Update: This year will honor the Carneval Queen Chelsea Handler(and you can only imagine how outrages she will be on stage) Plus L.A.Favorites Momma, Funky Hippeez and Jerry Curl performing live and the Perry Twins on the turntables keeping the dancefloor moving. Remember, this event is HUGE and FREEE !
UNIVERSAL STUDIOS HALLOWEEN HORROR NIGHTS
This year's event has a much cooler/creepier edge than ever before as you are allowed to get off the tram on the backlot, walk through original movie sets such as"War of the Worlds," Psycho House and Bates Motel....with a twist of course and also can experience the "SAW" Moves live! More info @
http://www.halloweenhorrornights.com/hollywood/
(Every Fri-Sun In October)
FRIGHT FEST @ MAGIC MOUNTAIN
Magic Mountain is just incredible during Halloween. For Fright Fest, you not only get to ride Batman, Viper, Goliath & Deja Vu IN THE DARK, you will be able to ride Colossus BACKWARDS!
Plus 5 Mazes, Shows, Scary Zones & a Hypnotist Show,(My personal Fave)all included with the general admission! Info: www.sixflags.com/magicmountain
ECHO PARK - The most decorated houses in the old Angeline Heights area are on Carroll Avenue on either side of Douglas Street
HOLLYWOOD FOREVER CEMETARY - Celebrating Dia De Los Muertos celebration with various tours, festivals, concerts and more > info > www.cemetrytour.com
LUCHA VA VOOM - Sexy masquerade wrestling. You kinda have to see to explain it. Oct 28/29/2009 at the Mayan Theater in Downtown L.A. > info > www.luchavavoom.com
SILENT MOVIE THEATER - ... Is going all out with scary silent movies, dj's during intermission, drag queens as host and even some burlesque performences. Always a good time > info> www.silentmovietheater.com
10/25/09 DRAG RACE AND PAGENT - 4.30pm
San Vincente @ Santa Monica Blvd- West Hollywood
Part of the West Hollywood Carneval, this event is just pure fun. Drag Queens in High Heels are racing to win some prizes. There is also a Drag Queen Pagent for those who do not want to sweat a little running down the street
I can't really explain it, just show up and enjoy the fun! There are multiple bars in the area to go for food or drinks before and after
10/25/09 PET COSTUME CONTEST
West Hollywood Park - West Hollywood
Want your pet to get into the Halloween spirit?
Here is your chance, enter your pet into a contest that is designed just for them
Infoline: 323-848-6534
THE NIGHTMARE BEFORE CHRISTMAS IN 3D @ THE EL CAPITAN THEATER
The classic Tim Burton Movie the only way you should see it - In an amazing restored 1920's Movie Theater!
THE HAUNT
Northridge Fashion Center
Have the urge to conquer some haunted houses? Well, you get 3 of them here, plus a fall festival. For dates and info, check
www.3232scream.com
HALLOWEEN COSTUME STORE
Wicked Factory- Halloween Costume Store-411 W. Main St.-Alhambra, CA 918010 - 626-991-1155 www.WickedFactory.com
If you are looking for Halloween costumes(sexy adults, kids, accessories, masks, wigs, makeup), this is a pretty good store to check out.
HALLOWEEN COSTUMES
Has costumes for every shape and size. Put in the code "Big Daddy" in the orderform and recieve a 15% discount

CLICK HERE TO RETURN TO THE ALEX IN L.A.HOMEPLAGE