WEST HOLLYWOOD HALLOWEEN CARNEVAL

Every year, over 350.000 Crazy Party People come along Santa Monica Blvd to see the most outrages Costumes, mingle, dance on multiple dancefloors, enjoy live music(last year Maya performed, the year before Pink)or just watch the incredible costume contest and this year, Ryan Seacrest was crowned Queen of the day(they offered him the King titel, but he insisted on queen, strange, but hey, it is West Hollywood after all, lol) ! See and be seen is the motto here. This is my favorite L.A. event, so, DONT EVER MISS IT!!!!


All Pictures were taken at the 2005 Carneval, thanks to Peter and Lizzy who were sober enough to get some good shots of the night!

! Welcome To The Carneval 2005 Style !





Dancing On The Streets!



Group Pic



Are They Real?!?!?!? lol



J - LO(W)



I Dont Even Know What They Supposed To Be



Hurricane Survivors On There Rooftops, One Of Several Hurricane Related Costumes



Creative



Equal Opportunity Protesters Or Just Two Really Confused Chicks, lol



Got To Give Drag Queens Some Credit, It Can't Be Easy To Walk In High Heels When You Are A Guy



Ahhhh, Mr And Ms Mario, To Cute



More Dancing On The Street



Of Course It Was Easy To Wear This Costume, Especially Considering It Was Still 75 Degrees At 11PM



C,C,C,Crazzzzyyy






Two Gays and A Girl, Almost Sounds Like A New Tv Sitcom - I Would Watch It! lol



FREEEEZE!



The Costumes Are Not Scary, But That They Can't Even Stop Using There Cell For Halloween sure is



Brain Dead



It's Meet And Greet Time



Angry German With Mr Speedracer



It DoesNot Look Like Homer Approves Someone Drinking His Duff Beer



The Parade Went On Even Inside The Pavilions Supermarket



He Is NOT Having Such A Good Day



There Is Just EVERYTHING Wrong With This Picture!



Sooooo cute.....



Wow, They Went From Cute To Nasty In 3.8 Seconds



More Sexy Eyecandy!



Hmmm, Pregnant, Smoking And Wasted....That Kid Will Be Pleasant To Be Around




Of Course These Pictures Are Just A Snapshot On What Went On That Night, This Is L.A.'s Madi Gras And Everyone is Just At Ease, Drunk And Having Fun.
It Is One Night When Everyone Is Coming Together To Have A Great Time

I am Leaving You With My Favorite Shot, It's Not The Best Costume, But Everytime I look At It, It Makes Me Laugh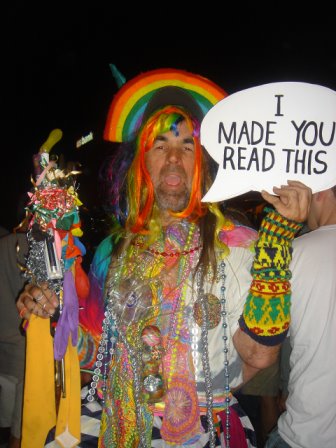 Told you so.....